BASE ENTERPRISE CLG WINS 'BEST SUSTAINBABLE IMPACT BY A SMALL TO MEDIUM BUSINESS' AT THE FINGAL BUSINESS AWARDS 2023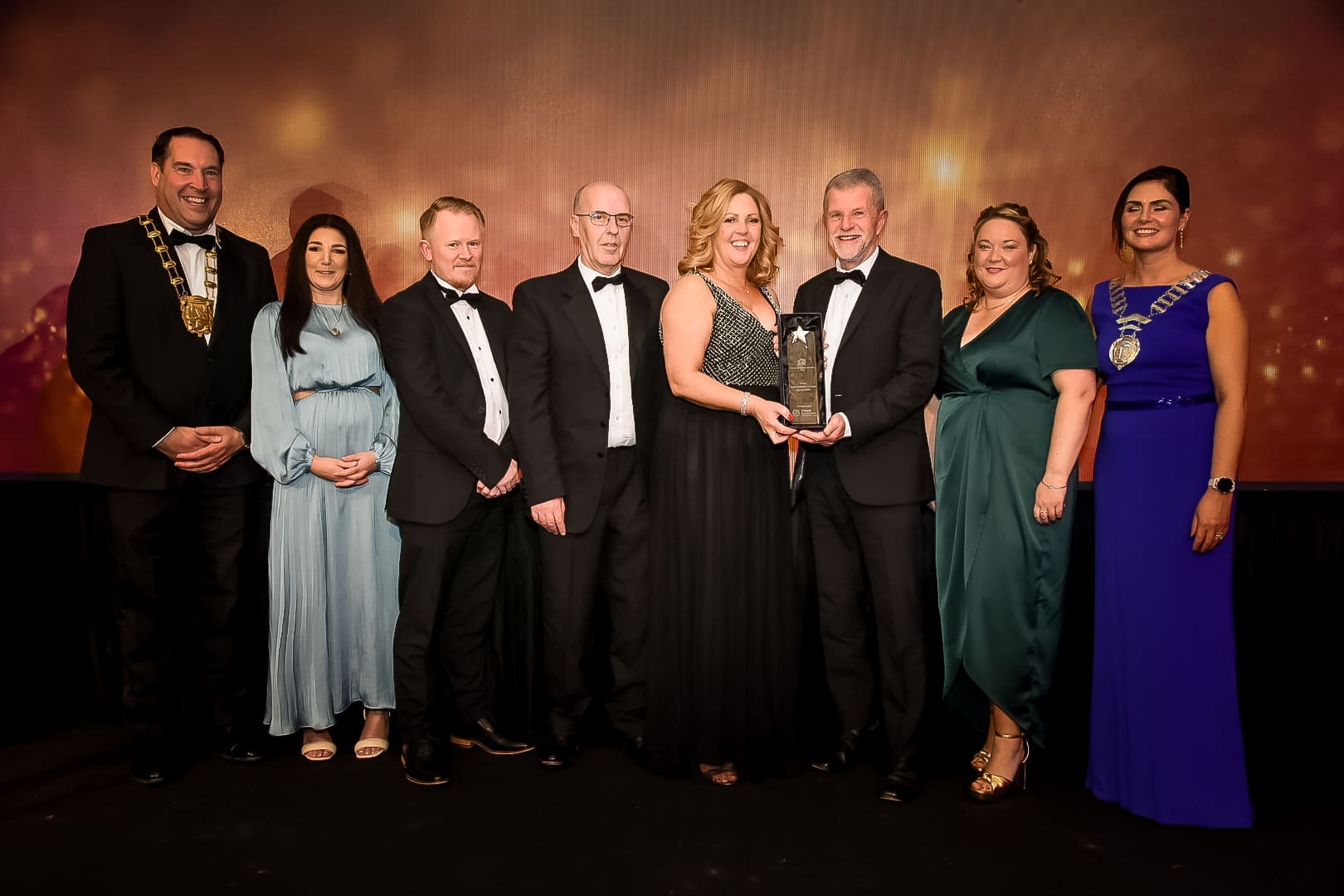 The team at BASE Enterprise being presented with Best Sustainable Impact by a small or medium businees' award at the Fingal Business Awards 2023
A very proud moment for the whole team at BASE Enterprise CLG, we were delighted just to be shortlisted. We had some very tough competition and felt any of the nominees would have been deserving winners.
We wanted to reduce dependence on fossil fuels, minimise carbon footprint and enhance the natural environment. As a community in BASE, we want to do our bit to address the climate challenge. It is the sum total of local actions that impact on the global challenge. In developing our Sustainable BASE Programme, we provide example to our community members (tenants). The "greener" our business model becomes the more we can become more sustainable and viable.
As a Social Enterprise we want to extend and expand our services and reach outside of the "fence line of BASE". We wanted to re-imagine our mission and make it as much about creating sustainability as it is about creating jobs and opportunity. We wanted to help individuals avoid the daily commute and its environmental and human well-being cost. This involved improving our facilities, improving the physical environment and sustainability expanding our services.
We decided to improve our buildings, creating multi-use spaces, and designing habitats for wildlife and planting to sustain pollinators. We also decided to address our energy usage and provide low carbon and shared transport options for businesses in the park and the local community.
Our sustainability journey (so far)
Upgrading of buildings and provision of remote working facilities and conference technology in meeting rooms, allowing hybrid/remote meetings.
Installation of secure "state of the art" wi-fi facilities that are unique to each user.
Provision of fob and coded door access systems enabling 24/7 independent access.
Installation of Swift Nesting boxes and a Swift "caller" to tackle decline in Swift population.
Extensive planting of wildflowers and shrubs in the Park to support pollinators and wild life.
Installation of electric vehicle chargers.
Installation of 30 solar panels providing electric power to common areas and EV Chargers.
Upgrading of lighting to LED throughout BASE Business Units and common space.
LED floodlights installed for security and external lighting.
Provision of Go Vans within BASE for shared use by businesses and local community.
Provision of cardboard baling service to all tenants in Base and in the wider Enterprise Park free of charge.
Installation of Can crusher to help businesses with recycling.
Use of used coffee grinds from our Coffee Facility as compost for our planted areas.
Installation of speed ramps to force speed reduction and improve safety.